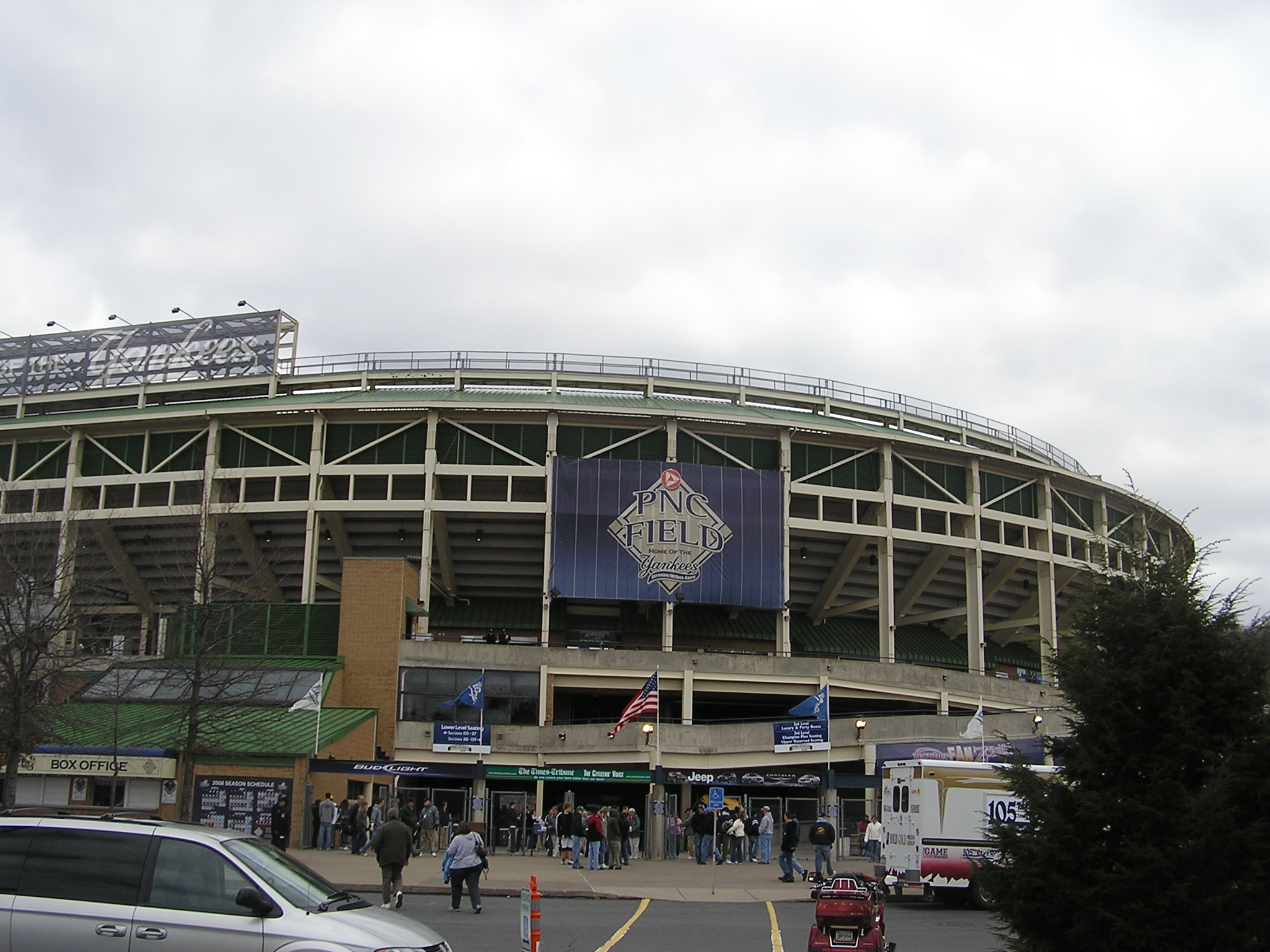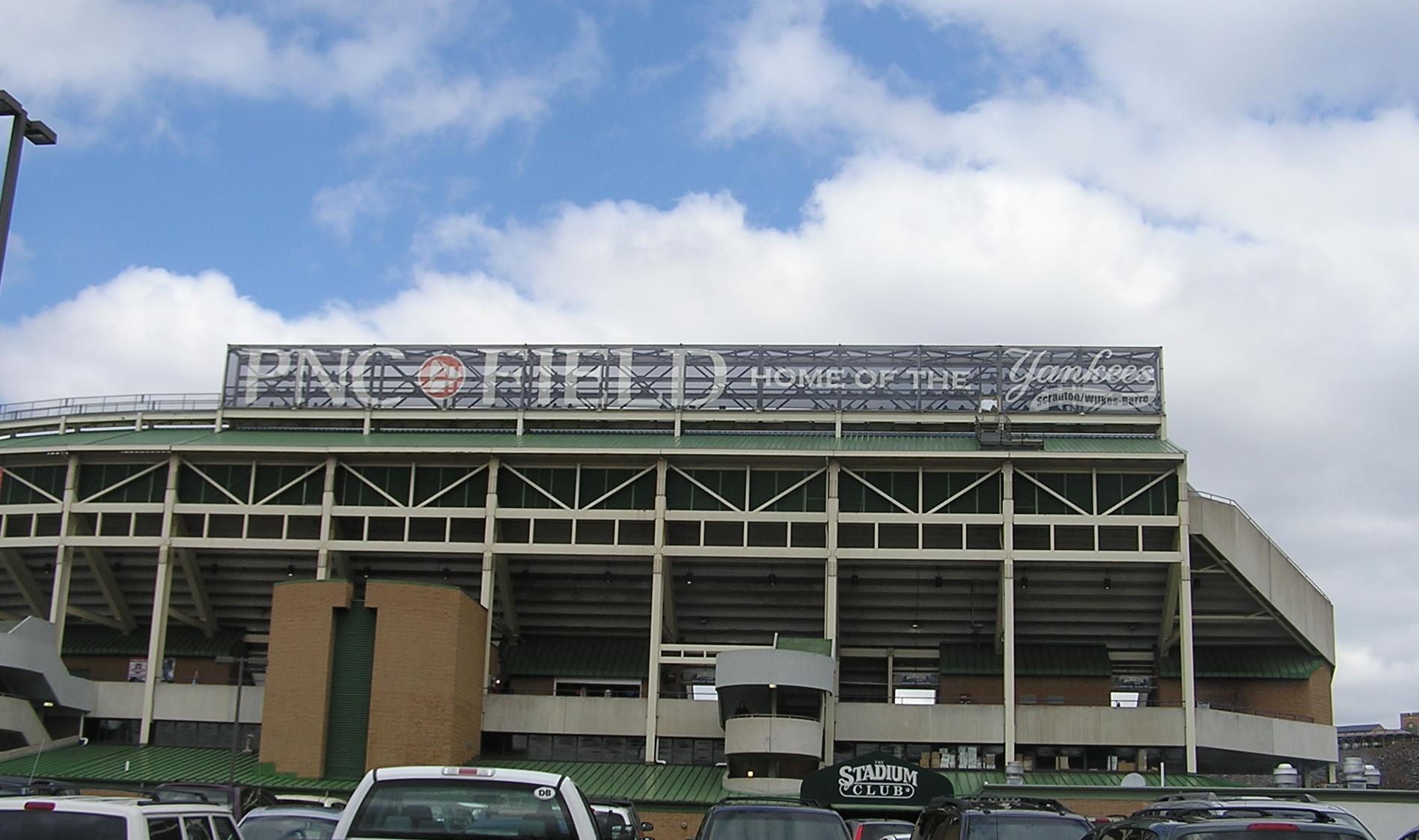 TEAM ::: SCRANTON / WILKES - BARRE YANKEES
LOCATION ::: MOOSIC, PENNSYLVANIA
MY FIRST GAME ::: JUNE 13, 1993
OPPONENT ::: TOLEDO MUD HENS
LEVEL ::: INTERNATIONAL LEAGUE (AAA)
TEAM FORMERLY KNOWN AS ::: SCRANTON / WILKES - BARRE RED BARONS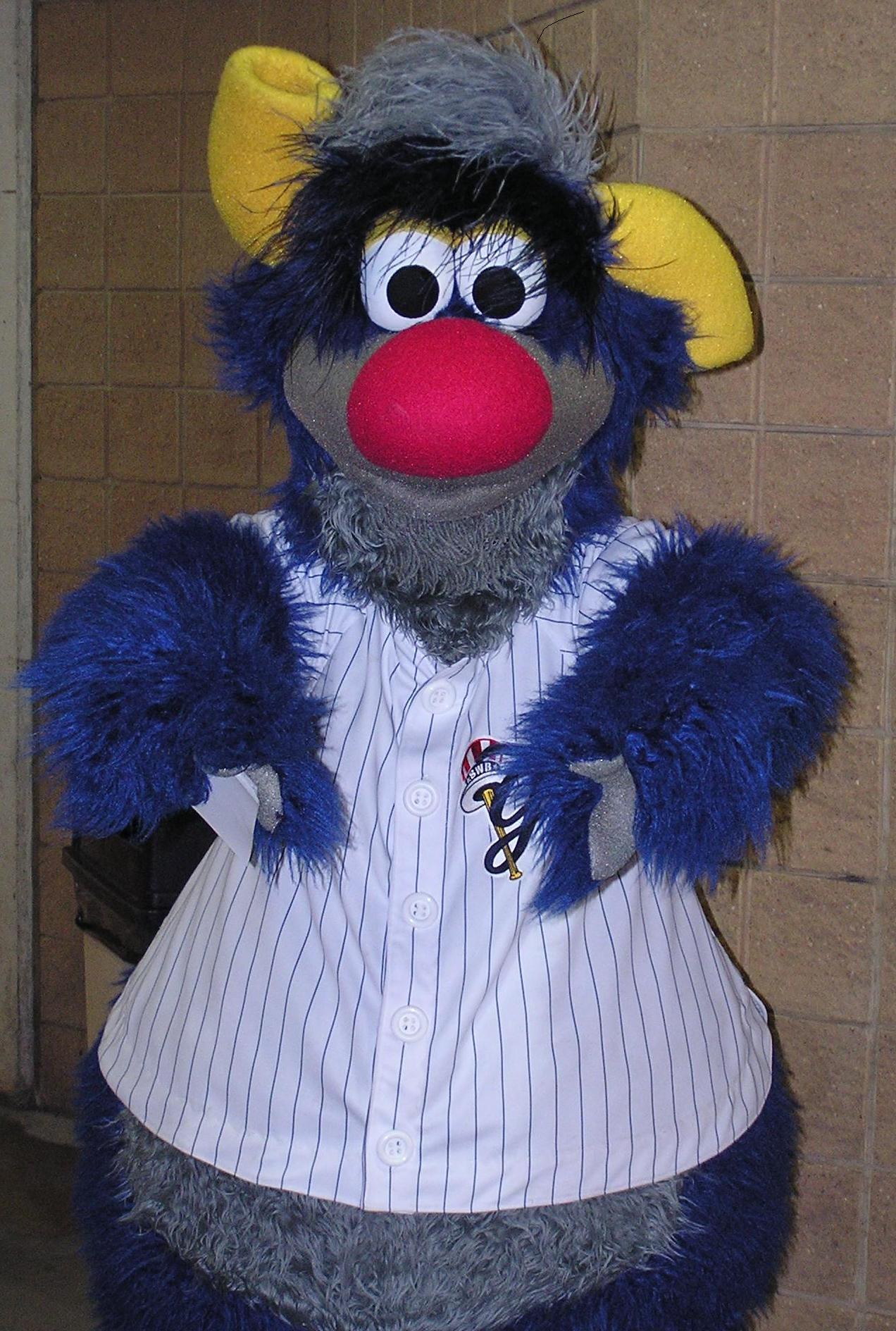 RATINGS
BALL FIELD ::: A
SCOREBOARD ::: B-
FOOD ::: B
FACILITIES ::: C
MASCOT ::: A
MY TAKE ON THE PARK
My first trip to Lackawanna County Stadium in Moosic, Pa was in 1993. In that time I have watched Red Barons games in a large concrete structure with the exact dimensions of Veteran's Stadium in Philadelphia. Dimensions and turf, artificial turf that sometimes looked as bad as the turf at the Vet. Aside from all of the other changes that have gone on around this once sleepy little ski town area the Scranton franchise affiliated with the Yankees, got a Corporate sponsor, and put down GRASS!!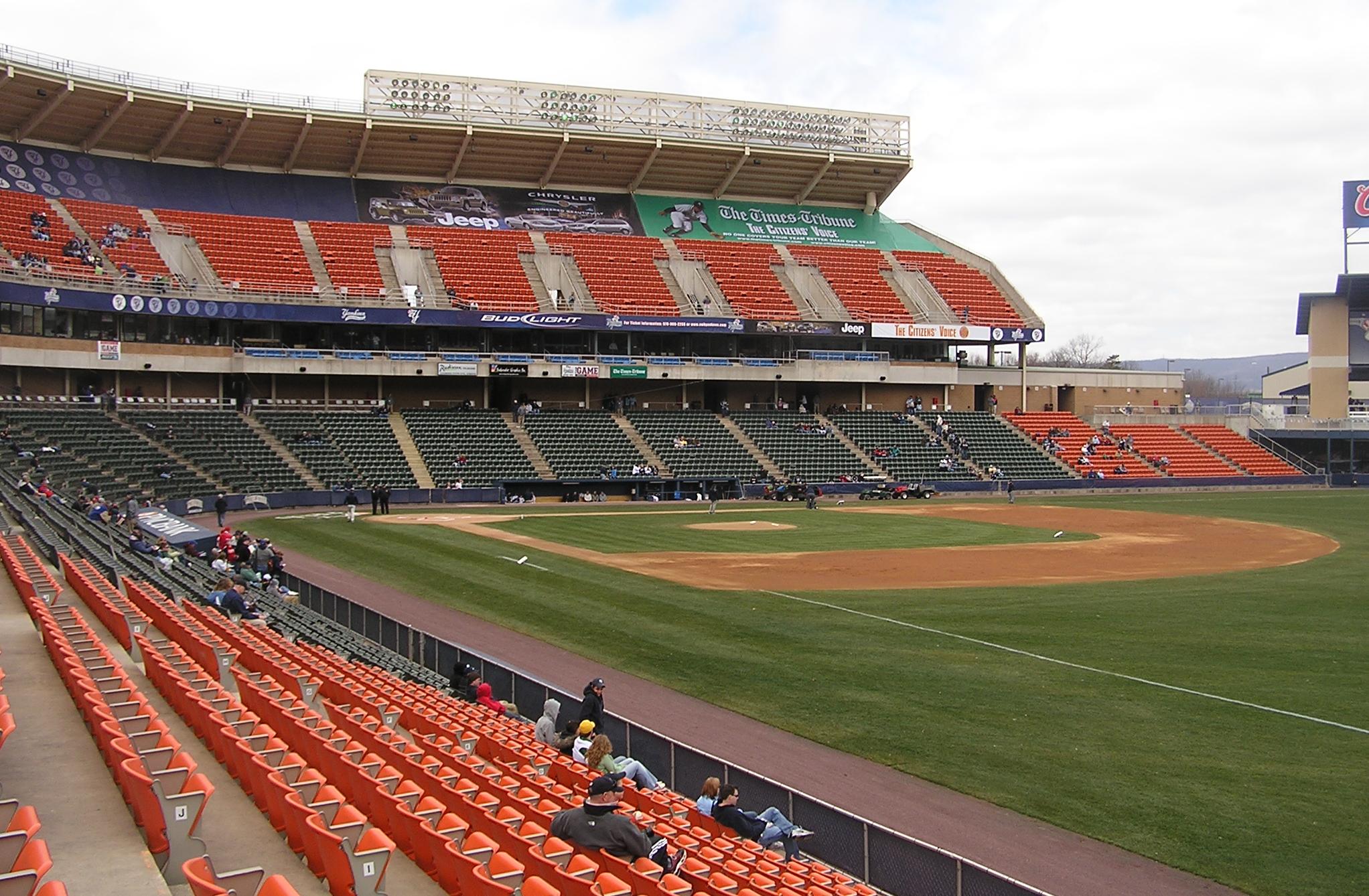 After seeing PNC Field I have to wonder what Philadelphia, Pittsburgh, and Cincinnati would have looked like had grass been down. The place is completely different, hence a new web page. All of the first time markers are the same, and I still have a link to my
up but I thought all new photos needed to be added.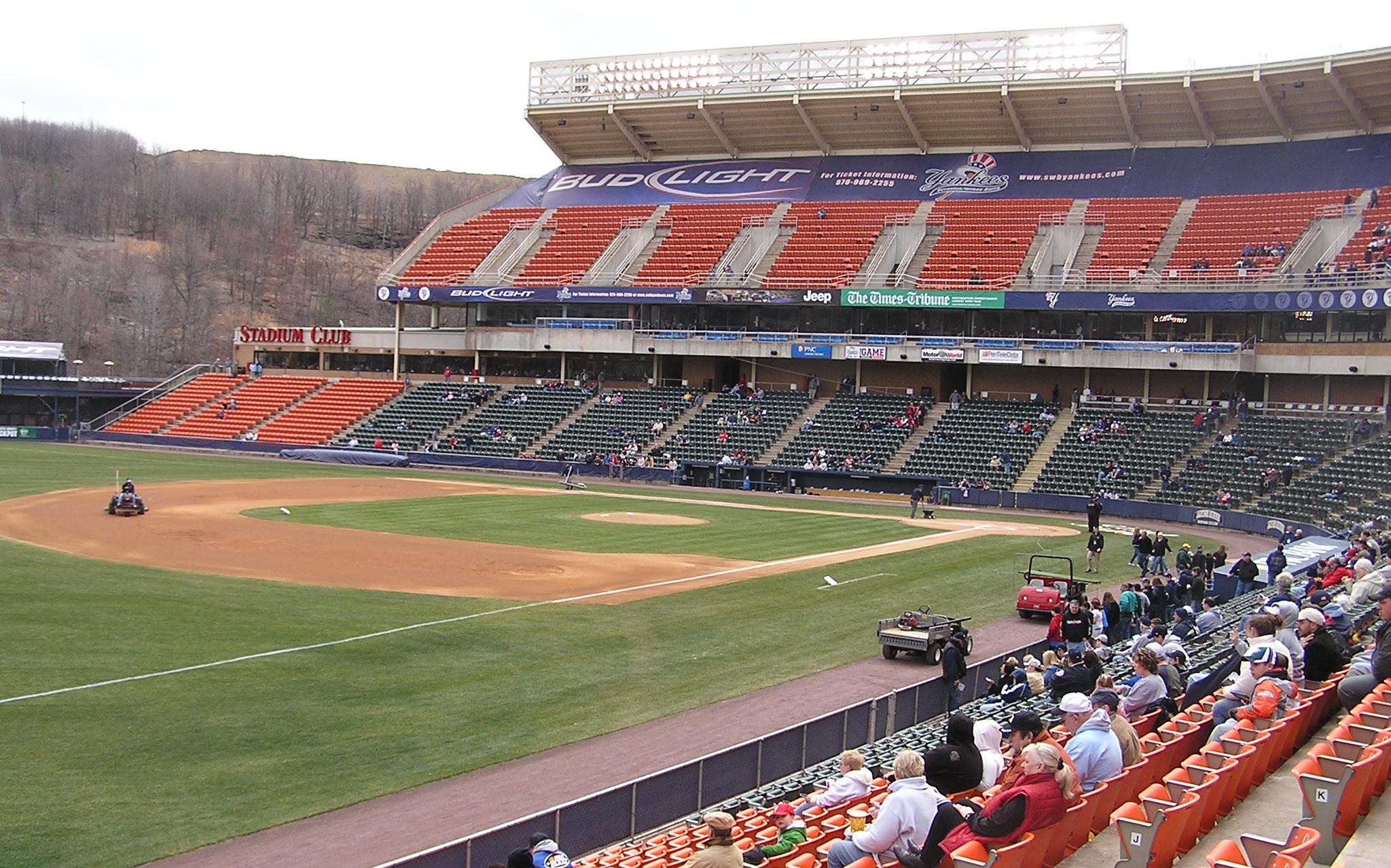 Aside from the baseball park, this area around Montage Mountain has expanded and really become a shopping destination. First was the movie theater above the Right Field Mountain. Then to the area came a few restaurants, a new exit ramp, and finally a strip mall.
All of this sounds kind of cool but rest assured, there is still only one way in and out of the park. I must say local police have it figured out and traffic does move.
One of the other things that happened is the team is now affiliated with the NY Yankees, and Yankee fans' have a tendency to travel making PNC Field a little tougher ticket than the Red Barons. What hasn't changed is the friendliness of the staff here. The whole S/W-B Yankee staff is very accommodating and very friendly, from the ticket window to the ticket taker to the usher in the park. Fans are greeted with a hearty welcome, it really goes a long way.
Inside the seating area, just looking at a grass field makes everything look better, but the Yankees did something else, they removed the top six rows in the upper deck. This was always one of the steeper upper decks in the Minors but taking out the top six rows somehow makes the place look smaller. Giant ads have been added across the top so the outfield wall can remain uncluttered.
The game is still treated pretty well here with line ups staying up each half inning and Ball Strike counts going up quickly. Parking is also still free and they now give you a program when you enter the park.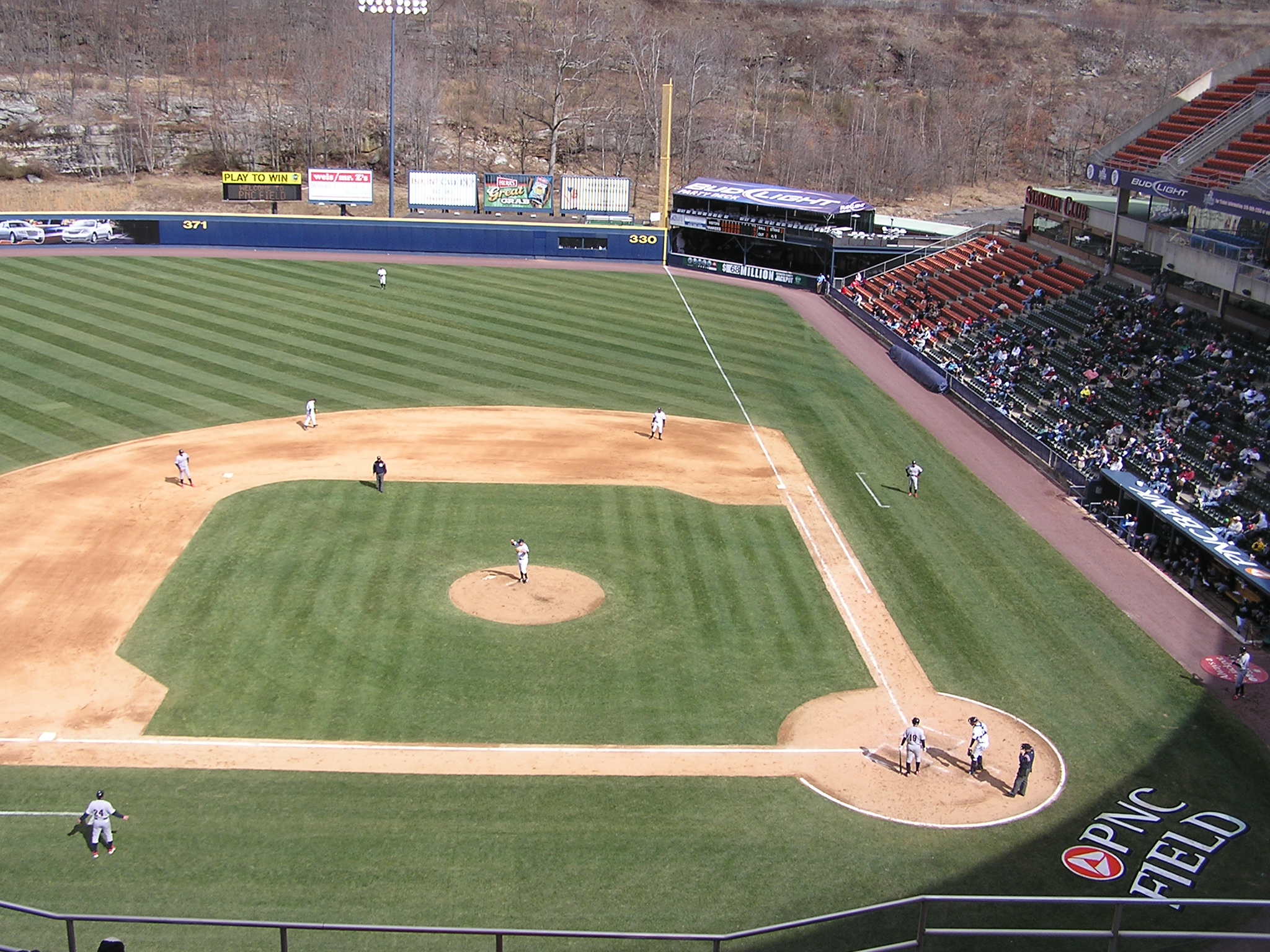 All in all, a trip to see the Scranton / Wilkes – Barre Yankees is a good time out. A beautiful new field as well as energy in the park I've really never felt.
Also, if you attend an afternoon game here, there are three Minor League clubs within a two hour drive. The 3 are Lehigh Valley, Binghamton, and Reading. Binghamton is the only one of the three that is not an almost guaranteed sell out on any given night but please, call any of the three before you go.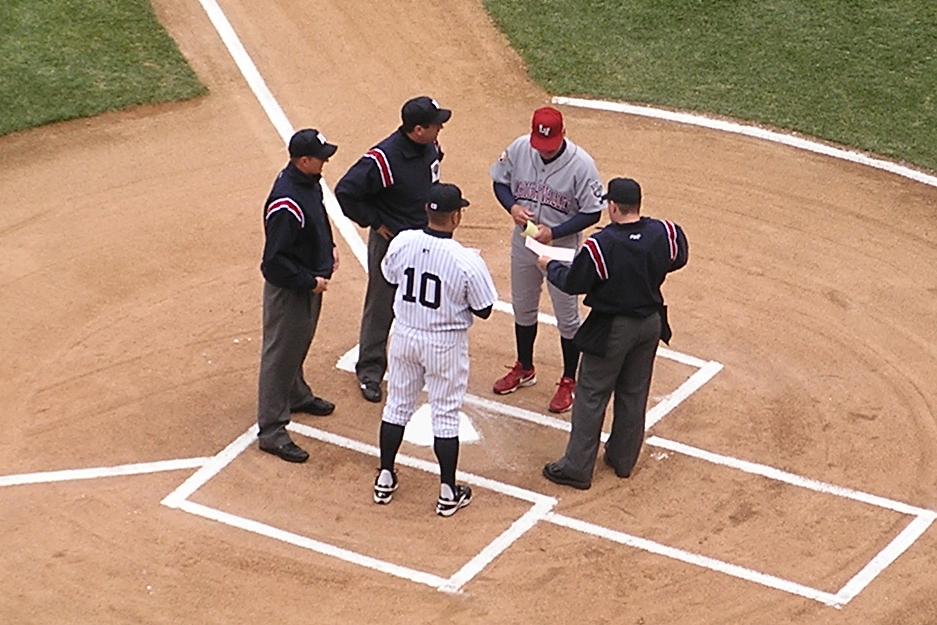 THE LINE UPS
MUD HENS MANAGER:::
7 JOE SPARKS

RED BARONS MANAGER :::
39 GEORGE CULVER
TOLEDO MUD HENS
26 Ted Williams cf
20 Rico Brogna 1b
12 Rich Rowland c
23 Shawn Hare rf
33 Ivan Cruz dh
17 Richard Ingram lf
9 Rod Robertson 3b
5 Johnny Padres 2b
25 Chris Gomez ss
14 Kenny Carlyle p
31 John Kiely LP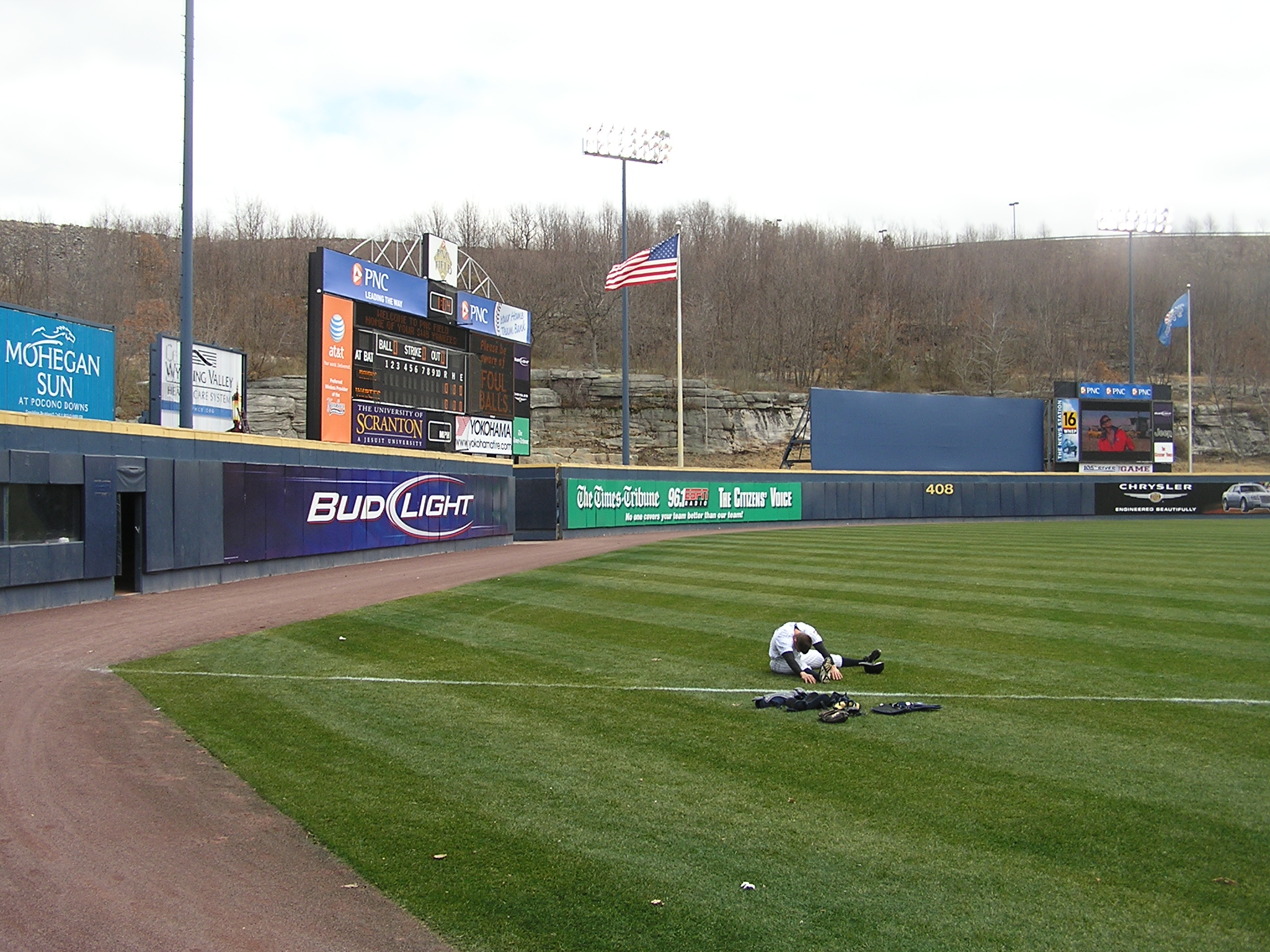 SCRANTON / WILKES - BARRE RED BARONS
33 Ruben Amaro cf
14 Gregg Legg 3b
16 Tony Longmire lf
4 Victor Rodriguez ss
34 Sam Taylor rf
36 Sean Ryan dh
22 Pat Brady 1b
17 Casey Waller 2b
7 Mike Lieberthal c
19 Tyler Greene p
27 Jeff Patterson WP
32 Drew Hall S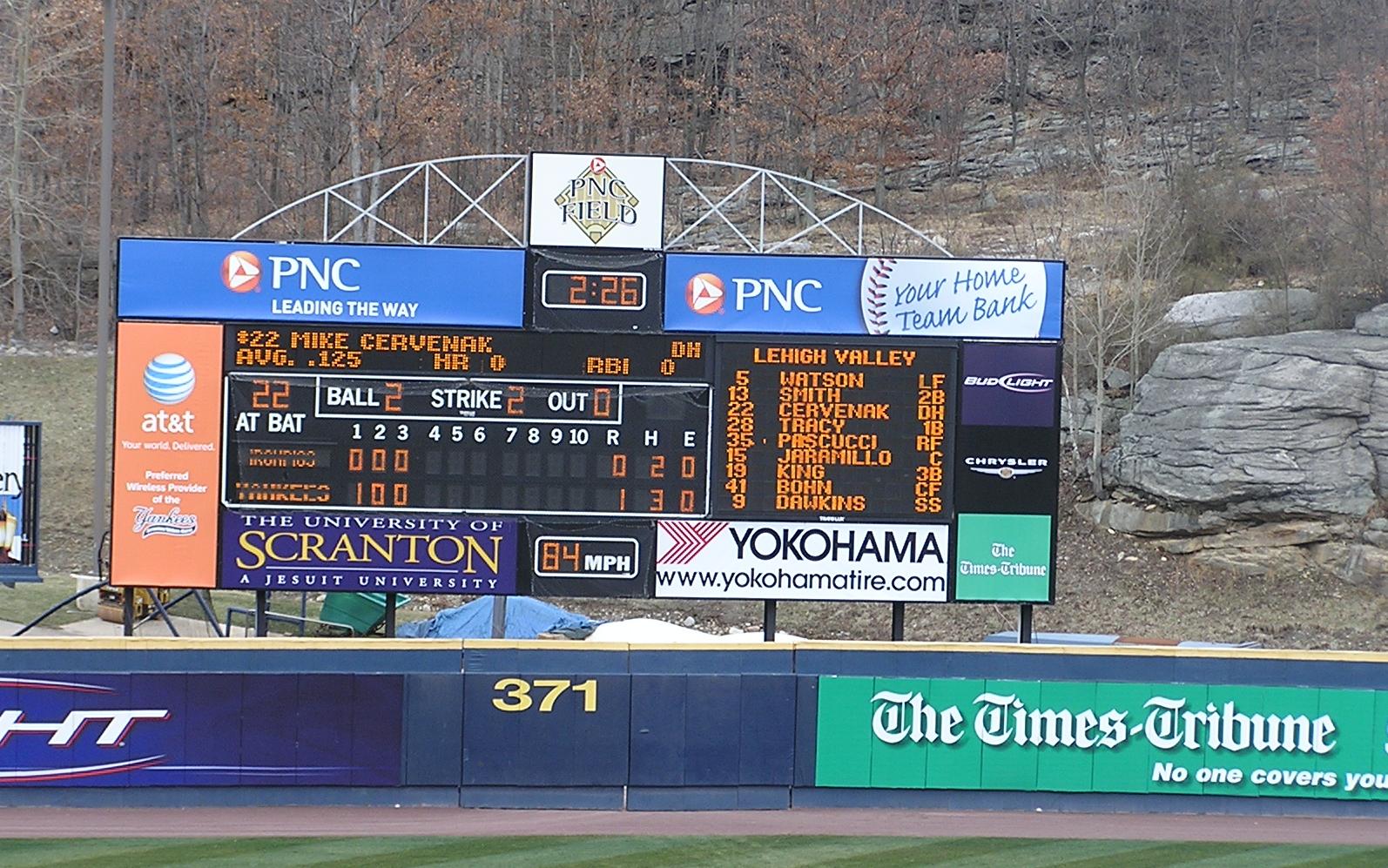 TOLEDO MUD HENS 010 110 300 6 13 2
S/W-B RED BARONS 000 012 05x 8 12 1

TIME ::: 3:07
ATTENDANCE ::: 8,765
WEATHER ::: COOL, CLEAR
SEND ME AN E-MAIL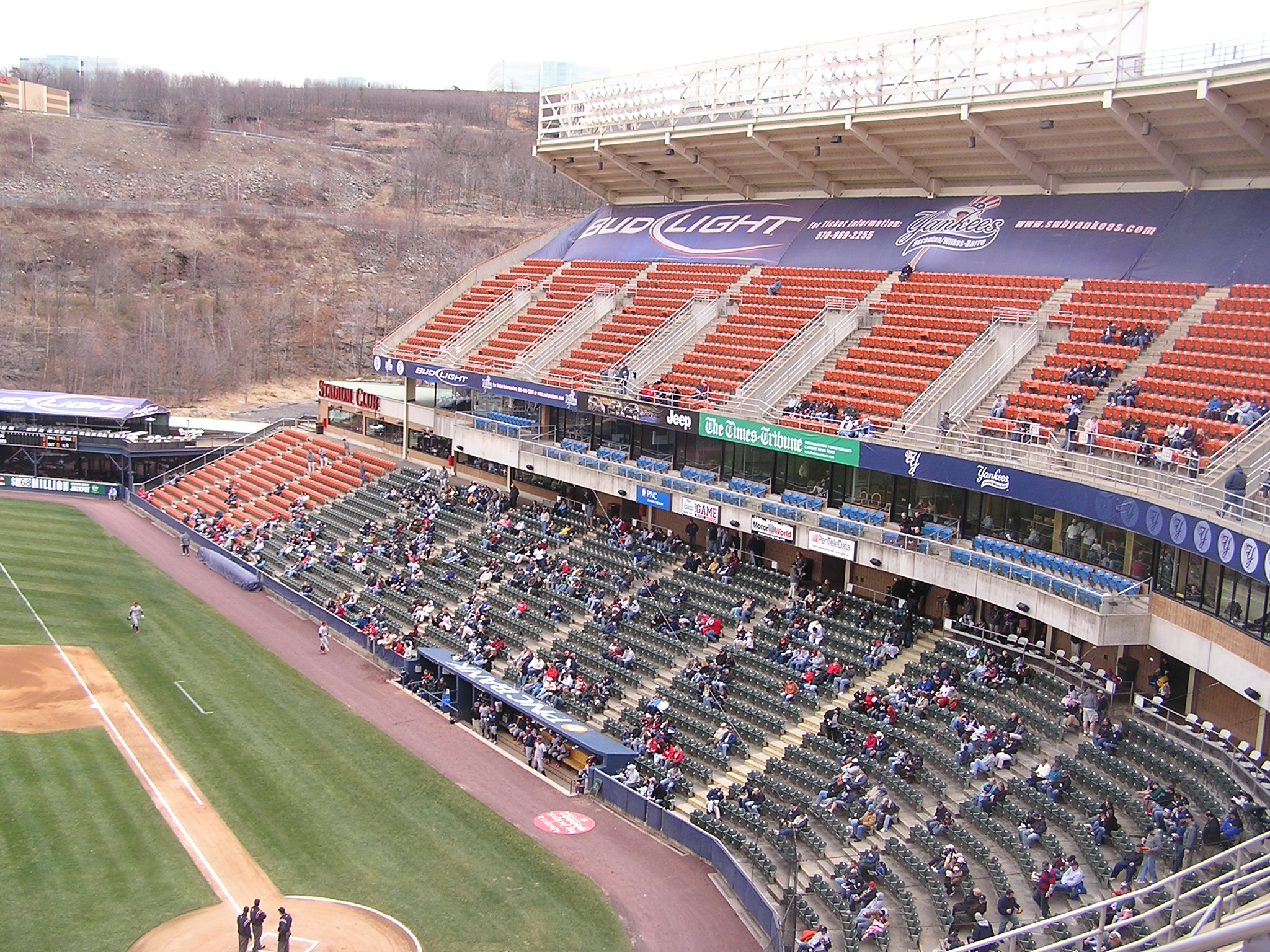 LINKS
The Official site of the Scranton / Wilkes - Barre Yankees
How this park used to look, My Lackawanna County Stadium site
A great place to stop before or after the game and talk baseball -- Coney Island Lunch
Moosic weather from WEATHER.com
Site Last Updated

© 2000-2012 UNCLE BOB'S BALLPARKS
I AM IN NO WAY AFFILIATED WITH ANY OF THE TEAMS ON THIS PAGE ... THIS
PAGE IS MEANT FOR INFORMATION PURPOSES ONLY.